MOVE(ment) For a Higher Purpose
If you've been keeping up, you know we're big believers in moving your body regularly (i.e. exercising) as a key element in a life that thrives.  But just because it's important doesn't make it easy...sometimes it takes more than just a desire to be healthy or look good....sometimes we must look further and realize there can be a higher purpose, and that with enough personal "moving"....and the right combination of energy, passion, and determination...we can successfully inspire a "move-ment" for the greater good.  That my friends (in this writer's humble opinion) is the golden ticket.......a true "win-win" where an individual gets moving and relies on personal strength and fitness to better position their family, friends, communities, and nation.
Over the past few months, the Pro-Activity team, has been exceptionally honored to be connected to many local heroes, moving for a higher purpose, putting themselves out for what they believe in, and inspiring all of us to follow their lead and move forward in their footsteps!
Some get moving and train in honor of a friend, like Cassy Bush who is training for her first full marathon with "Team In Training" to raise money for the Leukemia and Lymphoma Society in their efforts to cure, prevent, and conquer blood cancers once and for all.  

While guys like Christian Cole, now a sophomore at the University of South Carolina, and one of Pro-Activity's original youth training clients in 2005, has maintained focus and commitment to physical and mental fitness, and secured himself a highly competitive full scholarship from the U.S. Navy and an opportunity to further serve his country.
There's Michelle Cyphers and Wandy Bush, who in addition to recently completing a 13.1 mile journey to enhanced fitness and personal achievement, decided this was the year to tackle the 60 mile, 3-day Susan G. Komen Walk for the Cure.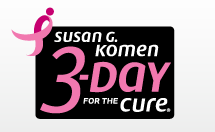 And there's Connor Ventura, a highly competitive 17 year old soccer player who was unexpectedly diagnosed with a life threatening condition called 
Chiari Malformation of the Brain after suffering a traumatic experience while playing soccer in Phoenix, AZ.  While some may think his experience unfortunate, Connor, in brain decompression surgery only two weeks later, has gotten "moving" making it his personal mission to raise awareness for Chiari through charity work and community involvement.
We've got military blood in our extended Pro-Activity family with Lt. Jacob Jantsch and his wife Captain Heather Jantsch, serving us strong, and moving to keep us safe.  
And last, but most certainly not least, is Army Private First Class Kyle Cyphers, a 19 year old awaiting deployment to Afghanistan.  Kyle, in an effort to secure care-package donations for injured soldiers, and honor the community that has supported him, has chosen to spend a considerable amount of time during his final weeks state-side and complete a 25 mile "ruck walk" (in full gear) this coming Tuesday May 24th that will end with a post-ruck celebration at BaseCamp 31, Pro-Activity's new home!  Kyle credits his fitness as a critical component in the advancement of his military career.
Follow along with our local heroes, check on their progress, or get involved and support their movements!